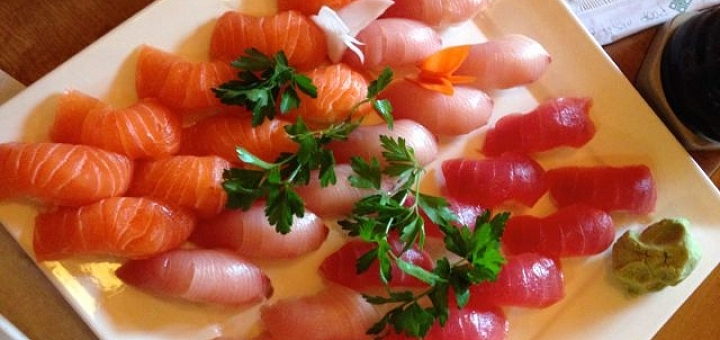 My favorite cuisine is sushi. In my opinion, good sushi is great food and great sushi is sheer awesome.  After eating at restaurants for the past year, I've had plenty of time to graze on rice and raw fish, but there are some that brought to me to the happiness I long for in this life.  I've eaten at around eight sushi restaurants on this trip: Nood (Lisbon, Portugal), Ichiban (Ho Chi Minh City, Vietnam), Tsunami and Godzilla Sushi (both in Changmai, Thailand), Toro (Ubud, Indonesia), Sushi Heaven (Carmel, CA,) Sono (Mountain View, CA,) and Sushi Ran (Sausalito, CA.)  All live up to my sushi lover standards, but some helped me express my love like no other, so let's revisit sheer awesome.
 Sushi Heaven. That's not a way to describe the restaurant, that's literally the name of it.  Maybe they just figured they'd save the trouble of describing it by making the name of the restaurant the description of the restaurant. After a plate of five rolls, my sushi pallet was broadened greatly along with my stomach.  What iI love about sushi, is the amount of flavor that is packed into one roll and Sushi Heaven took that to whole new level. Usually, all sushi, to me, tastes pretty similar, but not Sushi Heaven.
 It just so happens that we also tried making sushi ourselves in Carmel. I am still a newbie in the sushi making world, but I plan on being a master sushi chef by the end of the year.  Anyway, we made some mean rolls with the ingredients: nori, rice, carrot, cucumber, tuna, salmon, and crab.  We rolled them up in a disorderly matter with our ingredients of choice. They tasted great, but not particularly restaurant quality from the display side of things.
 We also visited a stupendous sushi restaurant in Sausalito, Sushi Ran, for Wescott's B-day that offers Sushi Heaven some stiff competition! I've learned that California is, in fact, the place to go if your looking to get a killer sushi meal!